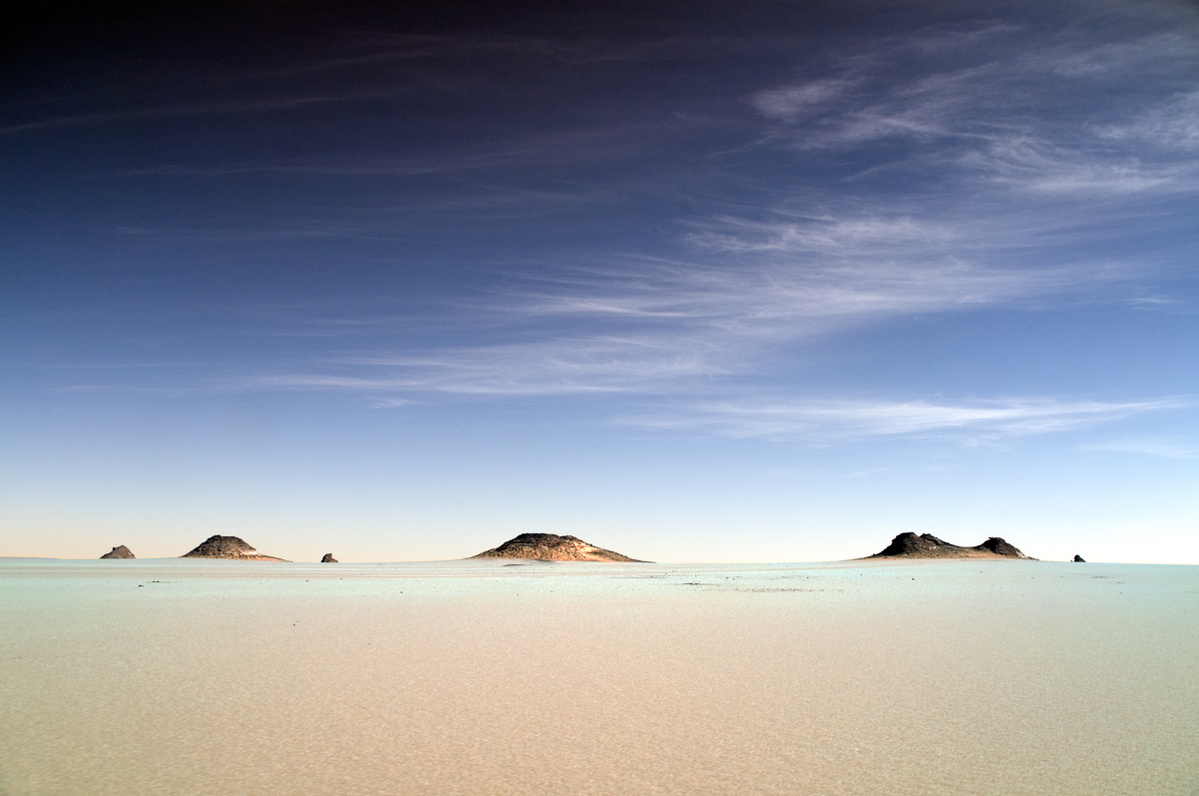 The Libyan Desert
The Egyptian-Libyan Sahara - also known as the Libyan Desert - is one of the driest, emptiest and most forbidding places on Earth. Stretching a thousand miles west of the Nile, and south for the same distance from the Mediterranean, this vast wasteland of surreal moonscapes, towering dune fields, and plateaus of rock seldom features on tourist itineraries in the area.

Treacherous, haunting and in a few places still unexplored, the Libyan Desert is graced with an illustrious past. Before civilization took hold in the Nile Valley, the area was part of a huge North African savannah and wetland inhabited by wildlife and semi-nomadic peoples. The area today remains littered with relics from that prehistoric wet period—from pottery to stone implements to cave paintings. One of the world's largest sand dune fields, "The Great Sand Sea", now covers much of that area, concealing even further evidence of the life which once teemed there.

Adventurers of all colours have attempted to navigate The Libyan Desert. The ancient Greek writer Herodotus reports that the Persian army of Cambyses was swallowed by a sandstorm as it tried to punch through the Great Sand Sea in an attempt to reach and conquer Siwa Oasis. Much later, in the 19th and early 20th centuries, Egyptian and European explorers breached that forbidden void to map what had until then only been known to speculation. Epic and flamboyant journeys on camel-back, in biplanes and Model-T Fords gave way to the subsequent spy missions of the Allied and Axis powers, who intrigued against each other in the Libyan Desert during World War Two. The nostalgia and romanticism of those latter episodes provided the material for Michael Ondaatje's novel The English Patient.
These photos document a 2-week journey made by jeep to the Gilf Kebir and Uweinat regions in the southwest corner of Egypt near the Libyan and Sudanese borders. The Great Sand Sea and the oasis regions of Dakhla and Farafra were also visited on the excursion.